Happy Holidays everyone, it's
The Star Wars Holiday Special
!
The Star Wars Holiday Special
is a two hour long special (approx 90 minutes sans-commercials) which aired only once on November 17, 1978, that's post-New Hope/Pre-Empire Strikes Back. Directed by Steve Binder and authored by more writers than you would think it would take,
The Star Wars Holiday Special
is possibly the most abysmal thing I've ever seen- both because of it's association with an otherwise fine movie series and it's shear awfulness. To be fair, the special was never aired again after its original broadcast and Lucas himself (who had little to nothing to do with the project) practically refuses to acknowledge its existence. An official VHS/DVD/Blu-Ray release does not seem likely. Before seeing it for myself, I had always heard about it in passing jokes regarding how terrible it was. Even still, no amount of casual conversation could have prepared me for this glimpse into hell itself. This is
The Star Wars Holiday Special
.
The special starts off promising enough as we watch Han Solo (actually played by Harrison Ford) and his pal Chewie fleeing an Imperial Star Destroyer in order to get the latter home to spend time with his family on Life Day. Not a great plot, but holiday specials tend to be that way, so I'm forgiving. Shortly after he makes the jump to lightspeed, we get the opening titles which quickly let us know that most of the main actors of
Star Wars
will appear in character as part of the special. As the credits extend into actors, actresses, and characters who've never been introduced in the series, our hope for something entertaining begins to falter (If you think Beatrice Arthur belongs in the
Star Wars
universe, God help you). This is
The Star Wars Holiday Special
.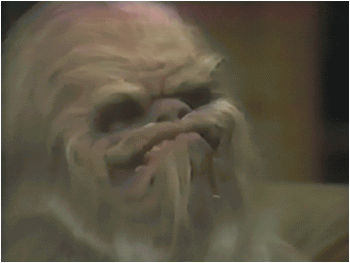 Once the opening titles subside, we find ourselves joining Chewbacca's family which includes a child, wife, and grandfather. The special subjects us to nine minutes of nothing but Wookie dialogue as these creatures communicate with one another. The only interruption is a painful hologram circus that the child activates and watches with an expression that reeks of insanity. After sitting through nine minutes of interaction that is only understandable through overly exaggerated pantomiming, we get our first 'finally' moment when Mark Hamill shows up as Luke Skywalker to calm Chewie's wife regarding her worries that her husband is late for Life Day. The cameo is over too soon though as we switch over to a gadget/trinket salesman trying to communicate with Chewie's wife in the presence of the most evil Imperial officer ever. He tells her that the shaggy carpet she ordered should be on its way and the person that made it did it by hand, solo....Ok, a part of me appreciates corny jokes, so I'll actually give the special credit for that one, but the setup for it was a little sloppy. But seriously, how come we were treated to nine minutes of Wookie family time, and only two of Luke Skywalker, only to be turned over to yet another character we don't care about. This is the formula of
The Star Wars Holiday Special
.
Some
of the appearances the special advertised in the beginning aren't even legit. Darth Vader's 'cameo' is just a series of deleted scenes from the first
Star Wars
film edited to look like he's vaguely talking about the events of the holiday special. We get a cooking show, a musical number in a bar from Bea Arthur, and several other moments that just feel out of place. The only somewhat interesting element in the whole thing is the first appearance of Boba Fett in a cartoon featured during the show. I'm half-way through rewatching the special in order to write this, and I can't bring myself to finish it. It's funnily awful for awhile, but then you realize that it's the cinematic equivalent of torture, and no person should have to subject themselves to it multiple times. That is
the Star Wars Holiday Special
.
I need some egg nog. Happy Holidays to all, and I hope to return to my old regularly posting self as I enter the new year.